As you all know, I spend a lot of time at Payton's school. Between what I do at school plus what I do at home for the newsletter and banking for the PTC, it's about 15 hours a week.
Today, during morning assembly, where the entire school and all staff, and a good number of parents all gather for pledge & announcements, the principal called up two staff members for a presentation. Luckily Mrs. McCoy had twisted my arm and made me promise to come to assembly, because the staff members were there to present ME with an award!!!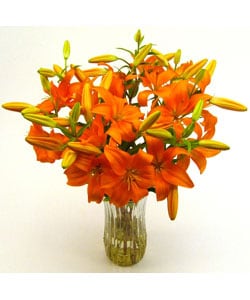 They presented me with a bouquet of orange lilies, a dozen cookies and a HUGE card signed by all the students in the school. It was so great! For a moment they doted on me and told everyone how much I do for the school and the staff.
I felt so honored! There are several parents at the school who do a lot, and I'm sure they'll all get their turn as Parent of the Month, but it was great to be recognized. Not by the principal or Mrs. McCoy who are always telling me how much they appreciate what I do for them, but by the school staff who see all I do for the entire school, not just my son's classroom. I even got a few hugs from staff members.
It was a great way to start my weekend!!