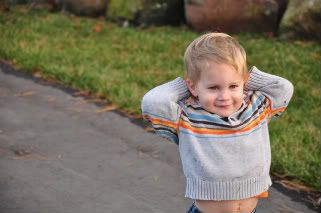 Since I've been venting about all the "unique" things Maxwell has been doing lately, I decided I better talk about his good side.
He's 22 months now (two in January). He's talking in 3-4 word phrases. He says things like "help please, momma.", "Where did it go?" and "There it is!". He knows a lot of people's names and he's making his own friends finally. His favorites are Tyler ("
Tyter
"), Bella ("
Baahhhha
"),
Traftyn
("
RaRin
") and Mia ("my Mia").
He's OBSESSED with his belly button. He has to be able to reach it at all times. That means in the car if his coat is over it, we have to listen to him scream until we get somewhere or pull over and adjust it. Then he says "All Better!". He has to be able to reach it to fall asleep. So no one piece PJs. Ugh. My boys and their weird quirks.
He tells me when he needs a diaper change. He likes to pick out his own clothes, something Payton still doesn't care about. He is sleeping in his own room, but still in a crib. I don't think I'll move him until he's four. I just can't trust him by himself.
Oh. Yeah. The good points.
Umm
...He loves people. He says "hi" to strangers we pass in the parking lot and out shopping. He uses his manners, a lot of the time without being asked. He loves to laugh!! Especially with Payton. They make funny sounds and rhythms in the backseat all the time.
He loves to do everything his brother does; play the
Wii
, color, read and watch movies. He does his "homework" when Payton does by sitting at the table with a pen and paper and "writing". He also LOVES puppies/doggies and to play ball. Kick it, hit it, throw it. Does matter as long as it's physical!
He really is a great kid. He's
mischievous
,
hilarious
and a trouble maker. But he makes people laugh and has a great personality. He
definitely
is a lot like his momma.